Beginner Painting Workshop | Carol Heischober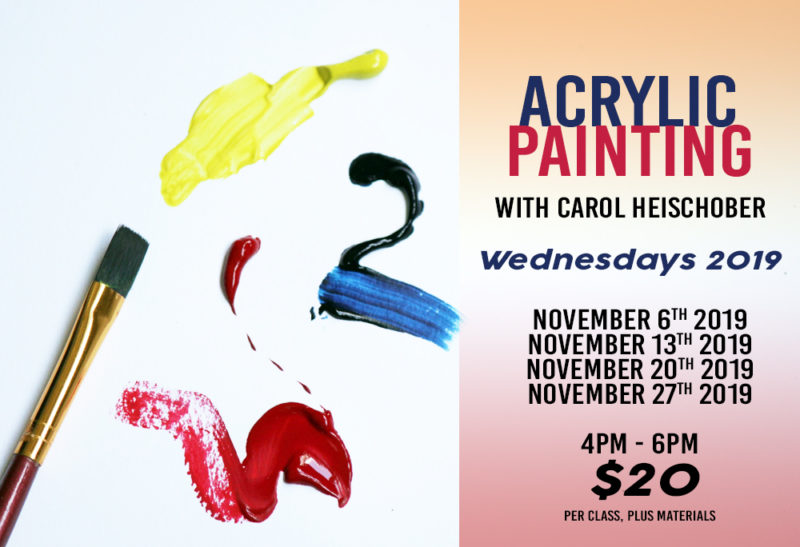 • Workshop cost: $20 + Materials
• Materials list will be provided at the time of purchase
• • • • BIO
Carol J. Heischober
Carol J. Heischober is the founder of Art and the Healthy Brain, a program that is implemented in numerous health, educational, and residential facilities in Virginia. Ms. Heischober has a B.A. in Studio Art, B.S. in Education, B.Arch. in Architecture and a M.S. in Education with an emphasis in psychological development. She is an educator, a member of the Virginia Beach (VA) Mayor's Commission on Aging, and an award-winning artist with over 40 years of experience. Ms. Heischober creates art at the Inner Light Art Studio, located in Virginia Beach, VA.
• • • • Course Overview: Beginning Acrylic Painting
•Introduction to Acrylic painting and Color Theory
The student will gain an understanding of the medium of acrylic paint.
The student will learn about different types of brushes and how to care for them.
The student will study the color wheel and learn the difference between primary, secondary,
and tertiary colors and how to mix secondary and tertiary colors using acrylic paint.
The student will study complementary colors, warm and cool colors, tints, shades, and tones,
analogous colors, and monochromatic paintings, and create paintings using these concepts.
•The Principles of Design
The student will study the seven principles of design; Balance, Repetition, Dominance, Gradation,
ontrast, Harmony, and Unity and create paintings using these principles.
•Composition and Painting Techniques
The student will study various viewpoints in composition, learn twelve different painting
techniques, and complete an acrylic painting using the grid method of painting from a picture
of their choice.
•Vocabulary, and self-study art history will be included in the various sessions.
Anyone who desires to expand their creativity and art knowledge will want to attend these
classes.
For more information on Carol, follow these links:
http://wavy.com/2016/06/09/art-class-for-seniors/
---