Try It! Lukas Studio Watercolor Sets & Strathmore Watercolor Pads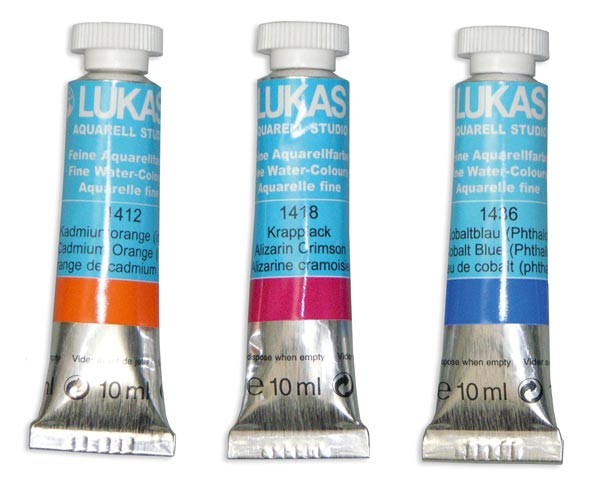 Try It! Saturday, March 24th @ 1PM – 4PM
And take advantage of these amazing deals!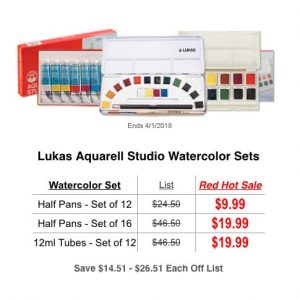 LUKAS Aquarell Studio Watercolors bring all the brilliance of professional paints to your artwork – at a student-grade price point! Made with high quality, lightfast pigments and an exclusive blend of gum arabic and dextrins, these outstanding watercolors will surprise you with their brilliance, fluidity, and longevity. Available in sets with either tube, half pan, or opaque watercolors, they are perfect for indoor work as well as travelling and plein aire painting!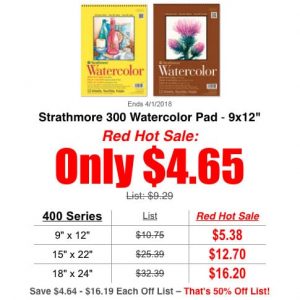 Strathmore 300 Series Watercolor 140lb. Paper Pads are an economical, heavy weight student-grade paper is best suited for beginning watercolorists or for experimentation and perfecting techniques. This paper has two distinct surfaces: the felt (top) side is cold press the most popular surface for most watercolor work, while the other side is smoother and is ideal for detailed work.
This 140 lb. acid-free, heavy weight watercolor paper is made to stand up to the various watercolor media. It has a cold pressed surface that adapts beautifully to a variety of techniques. Each pad contains 12 sheets and is attached with spiral wire binding.
Strathmore 400 Series Watercolor Paper Pads are an intermediate grade watercolor paper is popular with watercolorists of all levels because of the fine and even washes that can be achieved using this sheet. It also has a strong surface that will allow lifting and scraping applications
The natural white color and traditional cold press surface make it an ideal sheet for mastering watercolor techniques or for finished artwork.  Sheet stock has two deckle edges.
New York, NY
---