Summer Framing Demos!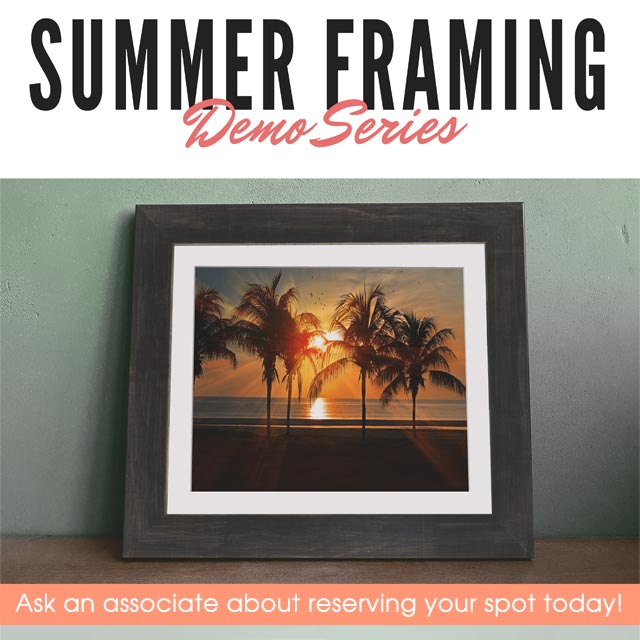 Summer Framing

Demo Series
Join us for our FREE Summer Framing Demo Series!
Learn the top framing tips, tricks, and secrets! Great for all levels of experience!
This is your chance to get all of your questions answered, and frame with confidence!
Ask questions, share insights, and leave with real knowledge of how to protect your most cherished memorabilia.
ANATOMY OF A FRAME – RSVP on Facebook!

Our first Demo is all about choosing the right frame for your art. The framer will demonstrate the different types, uses, features, and qualities of a frame. Participants will learn how to choose frames that best preserve and protect different types of artwork, and how to discern quality between different kinds of frames and mouldings. Customers will learn how to use various frames for matted and paper art, stretched canvas, panels, 3D art, and what components constitute a 'complete' framing job.

GLASS AND GLAZING – RSVP on Facebook!

Our second Demo is all about choosing the right glass for your art. Why are there so many different choices of glass and glazing for framing? How do I know which glass is best for what I'm framing? Learn the properties of glass and acrylic glazings, and their effects on artwork. Heat, humidity, light, dust, size, mediums and the materials used are all variables that should be evaluated with each piece framed to ensure the longest lifespan for your framed artwork.

MATS: PROTECT AND ACCENTUATE – RSVP on Facebook!

Our third Demo is all about choosing the right mat for your art. Mats aren't only for aesthetic, when used properly, they are a protective barrier between your artwork and the glass or glazing. Learn about the dangers of contact between art and glass, and how matting can help you avoid them. Understand the different thicknesses, textures, colors, finishes, and sizes of mats, enhancing accessories like filets, and how to design your matting to fit the composition of your artwork like a professional. Witness the limitless possibilities of cuts and styles, and the various technologies used by Jerry's framers to ensure a perfect cut, every time.

PRESERVING ART AND PHOTOS – RSVP on Facebook!

Our fourth Demo is all about how to preserve your art and photographs. Do you ever look through old family photos and see the wear and tear, the fading and discoloration, acid burns, and general deterioration? Have you ever wished there was a way to stop these memories from fading, or a way to save your history for posterity? You can't miss this demo! Your Jerry's framer will share everything there is to know about archival framing and preservation.

FIT, FINISH, AND HANG YOUR ART – RSVP on Facebook!

Our last Demo is all about how to professionally fit, finish, and hang your artwork. Learn the trade secrets of how to properly fit, finish, and hang artwork like a professional! Our framing expert will demonstrate how to use glazing points, spacers, acid-free backing, mounting strips, acid free framers' tape, offset clips, hanging hardware, and more! Get all of your questions answered, and frame with confidence!
Space is limited, demos are 45 minutes long each!
Follow your location's Facebook page for available dates, times, and more details!
Ask an associate about reserving your spot today!
Preview our demos and learn more about your framing options on our framing page!
See you soon at Jerry's!
Framing Demos are not available at our Wilmington or New York locations.
Austin, TX · Deerfield Beach, FL · Houston, TX · Lawrenceville, NJ · Miami, FL · Nashville, TN · Norwalk, CT · Providence, RI · Raleigh, NC · San Antonio, TX · Tempe, AZ · Virginia Beach, VA · West Palm Beach, FL
---