Acrylic Impasto using Jerry's Studio Acrylic Heavy Gel Medium and Palette Knives on Da Vinci Panels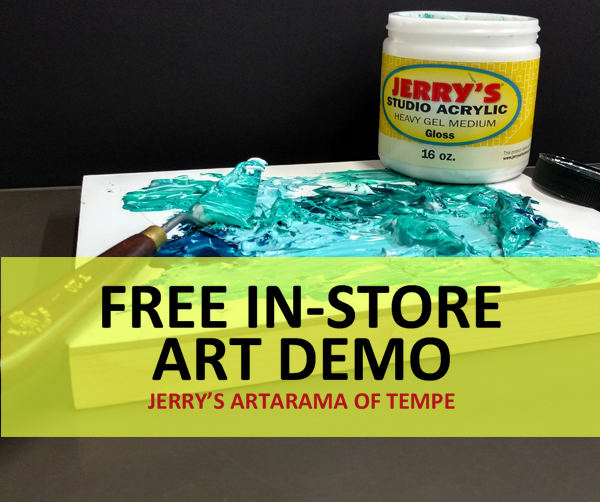 FREE In-Store Demo
Saturday, March 24, 2018 from 11:00 AM – 3:00 PM
Demos will be repeated every hour at the top of the hour.
Come in and enjoy a FREE demo on Acrylic Impasto using Jerry's Studio Acrylic Heavy Gel Medium and Palette Knives on Da Vinci Panels.
It's totally FREE!  No sign up required…bring a friend!
Coupons for products being demonstrated will be handed out!
Studio Acrylic Heavy Gel Medium – Heavy Gel Medium has a heavier consistency than heavy body acrylic paints, and produces a nice, glossy finish. It is designed to create and hold high peaks and texture, used alone or when mixed with acrylics. Impasto techniques are easily accomplished with the use of Heavy Gel. Transparency is increased as the ratio of Heavy Gel to paint becomes higher.
Creative Mark Painter's Edge Knives – These Italian-style painting knives are made from polished stainless steel, tempered to provide just the right amount of give for the perfect painting response. Each blade is fixed into its wooden handle with the aid of a brass collar, and the comfort-grip handles feature a deep walnut stain for beauty and durability. 
With 60 shapes to choose from, you're sure to find the perfect style for every painting endeavor. Each series "T" knife features an offset, trowel-shaped blade, making it easy to work the knife into the painting. Series "F" knives feature a traditional, flat blade perfect for mixing. Series "S" knives feature scraper blades for shaping, contouring and scraping designs into your compositions, or for removing color.
T = Trowel Shape          F = Flat Shape          S = Scraper Shape
Tempe, AZ
---